10 BEST BOLLYWOOD MOVIES – YOU MUST WATCH BEFORE U DIE !!!! – [PART ONE.]
If you are a nutcase fan of Indian Cinema, you must be knowing that Bollywood has a specific template. A peculiar masala formula, a sturdy-frame of songs, dance & music – through which each of the successful creation must pass before getting released. Most of the film-makers follow this formula, to play safe. But a few maestro directors have set examples, by breaking that template and have created masterpieces, even after breaking these rules. Every Bollywood-fan must watch these movies before they die!!
These movies are unique on their own. Some have excelled as mesmerizing art pieces, some because of their welfare pigment while a few are special because of their subject matter. We have picked here the films only from the mid-nineties to the 21st century. Otherwise, the list may exceed more than 50 movies. Also, we are not mentioning any hit-list or not giving ranks to these great pieces of art. We are presenting them in simple alphabetical order. Just remember that these are the films which are loved by the viewers because of their 'Uniqueness.' So, study their uniqueness, go through the films and let us know which one is your favorite?
Let's see the list and know more about each unique creation :
The Comic Chequer – 'Andaz Apna Apna'
AndazApna Apna is a 1994 Indian Comedy Film directed by Rajkumar Santoshi, starring Aamir Khan, Salman Khan, Raveena Tondon, Karishma Kapoor, Paresh Rawal and Shakti Kapoor in the leading roles. Whereas Mehmood, Govinda, and Juhi Chawla make special appearances. The film was released on 4 November 1994 and at that time was an average grosser at the box office. But over the years it has emerged as a 'Cult Classic Film,' and is having a dedicated and passionate fanbase. Who view the movie and quotes its dialogues repeatedly.
If there's one Bollywood movie where a dad can laugh the loudest & bond with his kids to the max, it's #AndazApnaApna . Clean comedy, mind blowing dialogues. Funniest movie of @aamir_khan & @BeingSalmanKhan #father #kids #family. Have my doubts if a sequel can ever do justice ?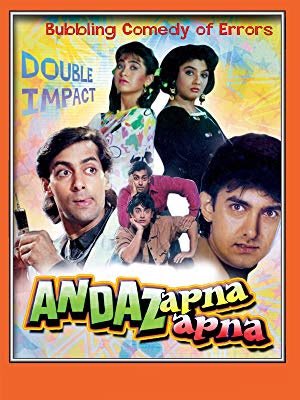 16710:08 PM – Jul 28, 2018Twitter Ads info and privacy60 people are talking about this
Despite being a 'Terrrrriffically Comedy…..' film, this film only did moderately well at the box-office; that year. The lack of publicity and tough competition from other films including Mohra, HumAapke Hai Kaun….!, Krantiveer, and 1942- A Love Story were reasons for its average business. This is an amazing creation of the film-maker Rajkumar Santoshi, but unfortunately, it did not turn out to be a massive hit, contrary to everyone's expectations. Each dialogue and character of the movie are immensely likable and have a terrific recall. This is a Classic film of the 90s. All those who watched this movie, still remember what a mesmerizing effect this movie left on them in those 2 hours!!! On the video circuit and TV, it has become one of the most popular Indian film over the years.
Several dialogues from this film like "Teja main hu. Mark Idhar hai", "Crime Master Gogo, Mogambo ka Bhatija," "Do dost ek cup me chay piyenge" etc., are popular.
While reviewing some other movie, critic Khalid Mohamed described Andaz Apna Apna in the "collection of excellent comedies" from Hindi cinema. Film critic Raja Sen called it a "cornball classic" and "one of the greatest comedies in recent times." In 2014, comedian Aditi Mittal wrote: "Writing about Andaz Apna Apna, I have realized, is like writing about mother's love. Everyone has their own version of how it affects them, what lines they remember the most."
The Mesmerizing & Picturesque – 'Devdas' (2002):
Sanjay Leela Bhansali's Master Art.
Sarat Chandra Chattopadhyay's Bengali Romance novel Devdas's story is proven to be a 'never-ending jackpot' for the Indian film-makers. There are total 15 Devdas- movies in various languages and even one Pakistani 'Devdas' (1965) created from this novel. Besides Bhansali's Devdas, Devdas (1928- Silent movie- Naresh Mitra's), Devdas (1935 Pramathesh's) and Devdas (1955 Bimal Roy's) have achieved special places in the history of Hindi Cinema.
This movie of Bhansali has picturesque scenes that are 'Treats' to eyes. Viewers feel like they are watching paintings !! The art, the colors, and the beauty is stuffed in each scene. Bhansali has played with colors, beauty, architecture, and cinema. He has genuinely paid his tribute to his 'love for beauty' by making this version of the story 'Devdas.' The art lovers and experts of Cinema have bowed before Bhansali's art of film-making, after watching this masterpiece.
Madhuri Dixit Nene✔@MadhuriDixit · Jul 12, 2018

Throwback to #Devdas which will always be a film very close to my heart! #16YearsOfDevdas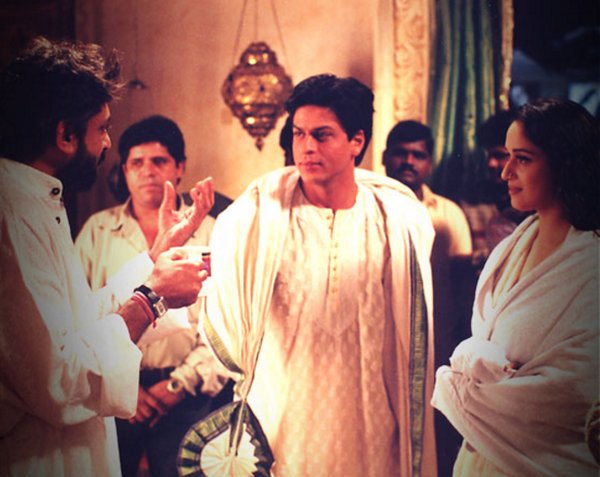 "HeartCoreFan" Anjan@Captainanjan


It's an iconic film of this world..

Proudly.. #16YearsOfClassicDevdas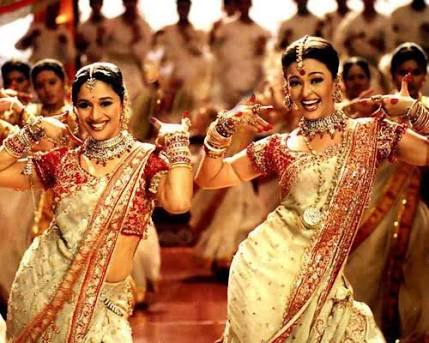 213:38 PM – Jul 12, 2018Twitter Ads info and privacySee "HeartCoreFan" Anjan's other Tweets
The film was included in Time Magazine's top 10 movies of the millennium worldwide.
Reviewer Sukanya Verma writes, "Sanjay Leela Bhansali's labor of love Devdas is a larger-than-life, poignant and spectacular interpretation. Clearly, Devdas is a work of art and heart. His penchant for color, grandeur, heartbreak unspools throughout the film as it did previously in Khamoshi – The Musical and Hum Dil De Chuke Sanam. The resplendent sets by Nitin Desai — Paro's stained glass house before marriage, her towering mansion after marriage, Devdas' sprawling house, Chandramukhi's dazzling dance court, even the railway compartment — are a treat to the eyes."
Madhuri Dixit Nene✔@MadhuriDixit · Jul 12, 2018

Throwback to #Devdas which will always be a film very close to my heart! #16YearsOfDevdas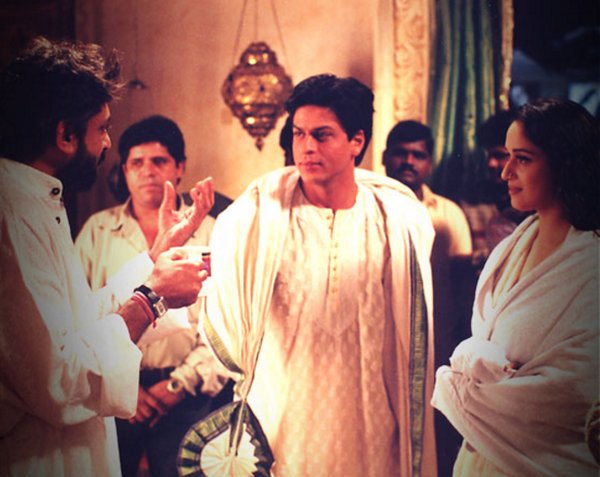 123:08 PM – Jul 12, 2018Twitter Ads info and privacySee SRKFan's other Tweets
Gandhi-giri Tadka – 'Lage Raho Munnabhai':
I can bet you would have never watched this type of movie in your lifetime !!!! Indian cine-critics have saluted Vidhu Vinod Chopra (producer) and Rajkumar Hirani ( the director) for creating such marvelous art piece. The unique story of this film is also written by these two maestros.
In Lage Raho Munna Bhai, the eponymous lead character starts to see the spirit of Mahatma Gandhi. He is actually having chemical imbalance in his brain. Through his imaginary interactions with Gandhi, he begins to practice what he refers to as Gandhigiri (a neologism for Gandhism) to help ordinary people solve their problems. The film is about finding the Gandhi in all of us, but never sounds didactic or preachy. Instead, it makes you laugh and cry through the whole journey during which it touches various issues of parental neglect, stagnation of the older generation, corruption, evil builders, bad manners, superstitions… the works!
The famous Bollywood critic Taran Adarsh said, "Producer Vidhu Vinod Chopra and director Rajkumar Hirani have a tough job on hand and a major responsibility on shoulders. But there's good news Like its predecessor, LAGE RAHO MUNNABHAI is a sparkling example of qualitative cinema. LAGE RAHO MUNNABHAI not only entertains, but it also enlightens. LAGE RAHO MUNNABHAI is forward-thinking but also makes you recall your roots. It promises lots of laughs and also a heartwarming message." One more cine-critic Poonam Joshi said, "Lage Raho Munna Bhai is the ultimate in feel-good cinema that leaves you feeling like anything is possible."
As per the norm, the film had released on a Friday. By Monday, everybody knew what 'Gandhigiri' meant. By Wednesday, people were using phrases like 'Oh, he's unwell. Hope he gets well soon' for somebody they didn't like. And within a week of the film's release, there were reports of traffic constables handing out flowers to the law-breakers. I personally believe that you can judge how timely and socially relevant a movie is by gauging its impact on general people's everyday life!
The Mocktail of Music, Sports & Emotions – Lagaan.
"Lagaan" is said to be the most ambitious, expensive and successful Bollywood film ever made, and has been a box-office hit all over the world.
Critic Roger Ebert said,"Lagaan" is an enormously entertaining movie, like nothing we've ever seen before, and yet entirely familiar. Set in India in 1893, it combines sports with political intrigue, romance with evil scheming, musical numbers with low comedy and high drama, and is therefore soundly in the tradition of the entertainments produced by the Bombay film industry.
Lagaan received critical acclaim and awards at international film festivals, as well as many Indian film awards. It became the third Indian film to be nominated for the Academy Award for Best Foreign Language Film after Mother India (1957) and Salaam Bombay! (1988). It was one of the biggest box office hits of 2001. In 2010, the film was ranked No. 55 in Empire magazines "The 100 Best Films of World Cinema". In 2011, it was listed in Time magazine's special "The All-TIME 25 Best Sports Movies". The film was screened retrospective as the Closing Film on August 18, 2016, at the Independence Day Film Festival jointly presented by the Indian Directorate of Film Festivals and Ministry of Defence, commemorating 70th Indian Independence Day.
# 1 Nominated for 1 Oscar. Another 44 wins & 19 nominations
'# 2 'Lagaan," however, has leaped over the usual boundaries. It became a genuine popular success in London, crossing over to a general audience, and gross high even in New York."
Critic Roger Ebert said,"Lagaan" is an enormously entertaining movie, like nothing we've ever seen before, and yet completely familiar. It combines sports with political intrigue, romance with evil scheming, musical numbers with low comedy and high drama, and is therefore soundly in the tradition of the entertainments produced by the Bombay film industry."
Seattle Times movie critic Moira Macdonald wrote,"Lagaan," a 2001 Oscar nominee for the best foreign film is a great big Bollywood musical film, this great movie is complete with songs and dances and doomed love triangles, has also elegantly photographed men playing an alien game (for them) – cricket. And it's terrific fun, in a way that only great big musical fantasies can be. revel in its colors, wallow in its melodrama, immerse yourself in its photography." Top critic Mark Peranson adorned his criticism by saying, "Few recent American musicals are this fluid or engaging."
The Heart-Touching Love of the Era: Maine Pyar Kiya
This Love-Movie released amidst of the Amitabh Bachhan, Anil Kapoor and Mithun's Action Movies like – Mai Azaad Hu, Parinda, Rakhwala, Raakh, Desh Ke Dushman, Aag se Khelenge, Tridev, Vardi, Mai Tera Dushman and many more. Indian audience, of that decade, was lost in the action, violence and 'Angry Young Man' image of the heroes. And it was a significant risk to make a film on love stories. But Suraj Barjaatya created this Unique love-story as his very first movie!! That scattered love & emotions all over in the air!! At the same time, Mansoor Khan also tried his hand on Qayamat Se Qayamat Tak (1988) as his first movie.
And it is a pride to acknowledge that these two movies changed the flow and trend of blood-shady action movies of Indian Cinema!!! Though we can not deny the fact that in the early 80s also directors created the movies like Love Story, Ek Duje Ke Liye, Betaab, Chandni, Hero, Sohni Mahiwaal, Teri Kasam, etc. But the magic that was created by QSQT & Maine Par Kiya was just beyond the horizon ……and it still continues to ignite the love in the hearts.
The way Suraj Barjaatya has put forward the tenderness of love without taking help of any kissing scene or skin-show! That's the beauty of this film. The innocence and tenderness of the love relationship of the couple just create the mesmerizing effect on the viewers, and they lost in the world of love. You must watch this movie, then only you can understand the aura of this film.
These are the movies that are unique in their own way. We have talked about 5 films and 5 are still remaining. Which we will talk about in the next blog.
To Be Continued…………..